A Different Game
A different game
Lake Michigan College, Lake Michigan Admirals get together for basketball scrimmage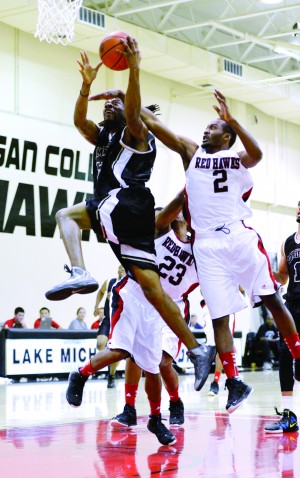 Jody Warner
A different game
Jody Warner / H-P Staff The Lake Michigan Admirals Courtney Blackmore (left) gets fouled by Lake Michigan College Tim Napier during Wednesday nightÕs basketball game.
Posted: Thursday, October 25, 2012 6:00 am | Updated: 2:05 am, Thu Oct 25, 2012.
By AARON GREEN - H-P Sports Writer | 1 comment
BENTON TOWNSHIP - The Lake Michigan College men's basketball team struggled against the Lake Michigan Admirals' size and physicality.
The Admirals controlled the inside with their size and the outside with their quickness to defeat the Redhawks 90-51 in a scrimmage Wednesday night.
LMC had success getting the ball inside, but had a hard time finishing at the rim and they rushed shots from the outside as Admiral players closed out.
"You have to give credit for their presence and athleticism," LMC coach Doug Schaffer said. "We hope our guys learn how to relax and play under control."
The Admirals had no problem scoring on the inside or out as they used their experience to force turnovers and get out in transition.
With the game tied at four, the Admirals went on a 17-4 run to take control of the game 21-8.
The Redhawks did settle down midway through the first half and actually cut the Admirals' lead to 21-13 before the Admirals went on a 25-8 run to close the half.
"There was a spot in the half about the 5:00 mark where we showed we could hang with them," Schaffer said. "We will look at that part of the tape and show the kids that they could not only play with this team, but play better than them."
Roy Napier led the Redhawks in scoring with 12 points and Melvin Brown chipped in 11 points.
LMC alum Courtney Blackmore led the Admirals with a game-high 24 points.
Blackmore played for LMC from 2004-2006 and led them to the national tournament in 2005.
Doug Waldon and Ryan Young added 15 points each for the Admirals.
Kelvin Grady 3 0-1 7, Steve Strong 4 0-0 10, Courtney Blackmore 8 4-4 24, Aaron Morris 3 0-0 6, Doug Waldon 6 0-0 15, Justin Anyijong 2 0-2 5, Jared Drake 0 0-1 0, Ryan Young 5 1-2 15, Fred Harris 2 0-0 4, Scotty Harris 1 0-0 2, Teddy Price 0 2-4 2. Totals: 34 7-12 90
Matthew Noble 1 0-0 2, Loren Johnson 1 2-4 3, DePaul Anderson 1 1-2 3, Darius Davis 1 1-2 3, Roy Napier 4 3-4 12, Sean Westley 1 0-2 2, Zach Mottley 0 1-2 1, Melvin Brown 5 0-1 11, Jarren Brown 0 0-1 0, Kevion Morse 4 0-1 8. Totals: 20 9-19 51
3-point goals -Admirals 15 (Grady, Strong 2, Blackmore 4, Waldon 3, Anyijong, Young 4), Redhawks 2 (Napier, Brown), Total fouls - Admirals 19, Redhawks 12, Fouled out - none, Technical fouls - none